Barney the Purple Dinosaur Toys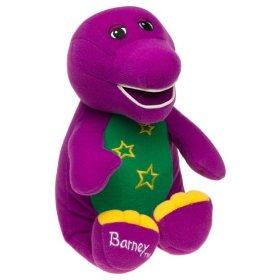 With the wide variety of Barney the Purple Dinosaur toys available, any preschooler should be able to find a toy to make him or her smile.
About Barney the Purple Dinosaur
Barney has long entertained and captivated the youngest children, usually toddler to preschool age. His catchy songs and gentle messages make him a popular character with kids and adults. Parents usually feel comfortable allowing their children to watch Barney on television or DVD, knowing that there won't be any violence, bad language or inappropriate behavior.
Like many other popular TV characters, Barney has been marketed to kids with a wide selection of toys. Now children who love the big friendly dinosaur can have a Barney of their very own, to talk to, sleep with, and even have him as a guest of honor at a tea party served on a toy tea set.
Types of Barney the Purple Dinosaur Toys
Any child who regularly watches the Barney television show knows his signature signoff "I Love You" song. Not surprisingly, many of the musical Barney toys parents will find include this favorite tune. While most Barney the Purple Dinosaur toys are just right for the preschool set, there are also toys for newborns, featuring gentle lullabies and soft, plush Barneys sized for the littlest hands. Some of the toys you'll find in a variety of stores and sites include:
Barney for Babies Love and Lullabies Gift Set: Available with a six-inch soft-bodied Barney who also doubles as a rattle, this gift set includes a cassette with 11 lullabies and a soft-cover book.
Musical Barney: There's more than one singing Barney. Some begin to sing with a push of the hand, foot or heart. Simple songs make it easy for young children to memorize the words and sing along with their toy.
Plush Barney: If you're looking for another plush stuffed animal to add to your toddler's collection, a soft Barney toy is perfect. Like other plush preschool toys, it's squeezable and perfect for cuddling with at naptime, at night, or any time a child needs some soothing.
Barney Musical Cell Phone: Many young children love to play with phones, and they don't care if it's a parent's phone or a toy! Now your little one can have his own Barney cell phone, which features colorful number buttons and Barney's friendly smile. It plays Barney's "I Love You" song and can help toddlers learn number recognition.
Barney Dance n' Play Guitar: Now a toddler can feel like she's playing music on her own Barney-themed guitar. Tunes are easily activated with a touch of the hand. Because so many children instinctively love and react to music, this is a good way to make a child feel involved in the melody making.
Barney Laptop Computer: Toddlers will love having a computer of their very own. This child-size laptop offers a variety of games and activities that kids will love.
Other toys: Don't forget Barney's favorite dinosaur pals, BJ and his little sister Baby Bop. These two are also available in a range of plush toys, some musical. You can complete a set and delight a child with all three of their beloved dinosaur characters.
Educational and Sweet
By the time most children begin school, they may have outgrown Barney. Let toddlers and preschoolers enjoy those few short years when Barney and friends teach them simple tunes and kind life lessons that they can take with them. Many Barney toys are more than simply plush and cuddly; they can also teach a child numbers, letters of the alphabet and safety tips, making these toys as educational as they are soft and sweet.