Disney Princess Shimmer Dolls
Buy Now"
Available in a variety of beautiful fashion dolls and other toys, the Disney Princess gallery includes:
Aurora from Sleeping Beauty
Snow White
Belle from Beauty and the Beast
Ariel from The Little Mermaid
Jasmine from Aladdin
Cinderella
Mulan
Pocahontas
Tiana from The Princess and the Frog
Pocahontas
Buy Now"
Not technically a princess, Pocahontas is still the daughter of a tribal chief and is considered part of the Disney Princess line. Pocahontas dolls often include her raccoon pal, Meeko.
The Princess and the Frog
Buy Now"
Tiana, from the 2009 movie The Princess and the Frog, is the latest addition to the Disney Princess gallery. She is also the first African-American princess. A full line of dolls and other toys is available in anticipation of the film, from fashion dolls in different dresses to a toddler version of Tiana.
Magic Fairy Lights Doll
Buy Now"
Some Disney Princess toys try to recreate the magic of the original movies with special light and sound features. For instance, viewers may remember the scene in Sleeping Beauty where Princess Aurora's dress constantly changes colors while she dances because her fairy godmothers can't agree on a color. Evoking that scene, the Magic Fairy Lights doll's dress lights up with different colors, depending on the fairy godmother you place in her hand.
Bath Beauty Ariel
Buy Now"
Little girls love taking their favorite Disney Princesses with them everywhere they go. A tub-ready doll like those in the Bath Beauty line means that bathtime can still be playtime. Molded plastic clothing and accessories like a water spout make the dolls easier to enjoy in the water. For extra fun, splashing the dolls with cold water causes the hair and clothes to change colors.
Baby Disney Princess Gallery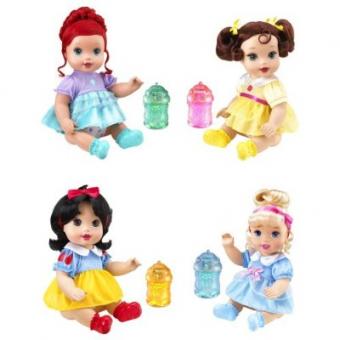 Buy Now"
The Sparkle Baby collection lets little girls play with their favorite characters in a much younger form. They can have fun taking care of baby versions of Ariel, Aurora, Belle and Snow White. Their bottles light up and play music, which adds the touch of magic that always seems to follow the princesses.
Disney Favorite Moments
Buy Now"
Although many Disney Princess toys are larger fashion dolls and baby dolls, there is also a selection of smaller plastic dolls, often with playsets and accessories like snap-on clothing. These small dolls are perfect for tucking in a backpack and bringing to school or a friend's house.
Cinderella Dress
Buy Now"
The best way to pretend to be your favorite Disney Princess is to dress up like your favorite Disney Princess. Parents can find dresses for Cinderella, Snow White, Sleeping Beauty and others. They're great as Halloween costumes or for everyday pretend play. Jewelry and shoes are also available to complete the look.
Disney Princess Memory Game
Buy Now"
The Disney Princesses can put a new spin on any game, including special editions of classics like Memory and Pretty Pretty Princess. It's a great way for girls to enjoy their favorite characters in a new way.
Princess Bed Hideout
Buy Now"
The Disney Princesses appear on a number of licensed products, from notebooks to dinnerware. A princess-themed bed cover can help girls enjoy sweet dreams or provide the perfect "castle" setting for pretend play.
Enjoy a look at more classic girls' toys with My Little Pony pictures.