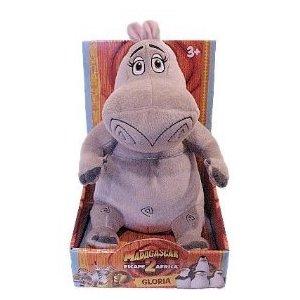 Madagascar plush toys are popular with children that love the Madagascar movies. There are several characters represented and they can be found at almost any toy store, as well as Amazon.
About the Madagascar Movies
Dreamworks has released two movies in the Madagascar series. In the first, Madagascar, Marty the Zebra decides to escape from a New York zoo. His friends, a hippo, giraffe, and lion, have to escape to find him and bring him back.
The zoo officials decide to send the runaways to an animal preserve in Kenya but plans go awry when some penguins change the destination to Antarctica. Chaos ensues and the four end up on an island where Alex, the lion, finds out that he is a carnivore and his friends are prey.
In the second movie, Escape to Africa, the four are attempting to get back to New York but end up on an animal preserve in Africa. In fact, Alex discovers that this was the very preserve where he was born and his father is still the leader.
The Madagascar Plush Toys
Most children like to reenact scenes from their favorite movies and TV shows. This helps to build several skills that they will need for school, including reading. When children have their favorite characters in the form of a soft, cuddly toy, they can recreate these scenes as well as make up their own. Which stuffed toy you buy should be dependent on the child's age, character preference, and how much you want to spend.
Dreamworks licensed several different plush toys based on the characters from the films. They range in price from around 10 to 45 dollars.
Talking Plush Toy
The talking plush toys say selected lines from the movies. These plush toys take two AA batteries and are recommended for children three years old and older.These characters include:
Marty the Zebra
Alex
Rico the Penguin
King Julien
Ty Beanie Babies
Ty also has come out with a number of characters from the movie. These Madagascar Beanie Babies carry the heart shaped Ty tag. If you are buying these as collectibles, be sure to keep the tag intact. You can buy the Beanie Baby characters separately or in a set. There is also a DVD version of the movie that is being released with one of the Ty Madagascar characters as a set:
Alex
Gloria
Marty
Melman
Skipper
Because the Beanie Babies are smaller than the normal-sized plush toys, they are easily carried around by the children that love them.
Plain Plush Madagascar Characters
While talking plush toys and Beanie Babies have their place, there is something to be said for a stuffed animal that doesn't do anything. These toys can be anything that your child wants them to be. The plain Madagascar plush toys are available in several sizes and characters, including:
Alex
Gloria
Marty
Melman
Ricco
Skipper
King Julien
Phil
Moto Moto
---
Madagascar plush toys are perfect for naptime cuddling. Having a soft toy or other "lovey" can help your child feel more secure in unfamiliar situations, or those times where he feels lonely or sad. If the movie is one that your child wants to watch over and over, if he can quote lines, and knows all the characters, then he may love one of the plush characters.