Guide to Miniature Porcelain Dolls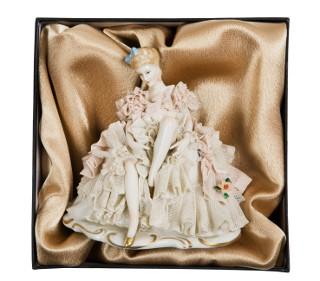 Miniature porcelain dolls are ideal for collecting and enjoying. The mini dolls typically stand 1.5 to 6 inches in height, and various types of dolls are available, ranging from antiques, to home décor, to play toys.
About Miniature Porcelain Dolls
Miniature dolls made of porcelain have been in circulation for centuries. Mini dolls made before the 19th century were typically constructed of papier-mache, wood, wax, clay, or cloth. Porcelain became a popular choice for doll making because of its realistic qualities.
The ceramic is made of kaolin clay, which is clean and white. Other ingredients, including the following, may be added to kaolin to make the dolls:
Ball clay
Glass
Bone ash
Petuntse
Quartz
Alabaster
Steatite
The various types of porcelain depend on the portions and combinations of ingredients. After a composition is mixed, it goes through a forming process that may include any one of the following:
Soft plastic forms
Pressing
Casting
Stiff plastic forms
China Dolls
Some may refer to porcelain dolls as "china dolls" but these creations were not developed in China. The original china dolls were made in Germany, and their development spread to France and Denmark during the 1800s. The earliest dolls that fit into the china category were made by:
KPM Berlin
Meissen
Royal Copenhagen
Rorstrand
Miniature china dolls are glossy because they were glazed before firing. Some porcelain miniatures do not have the shiny glaze.
Bisque Dolls
Bisque miniature dolls are unglazed before the firing process, making them appear more realistic in texture. Glaze and color are added after the ceramic is fired. The bisque ceramic may also be called "biscuit". Both china and bisque dolls fall under the collective term, "porcelain dolls".
Where to Find Mini Porcelain Dolls
The types of mini dolls available offer something for everyone, whether they are collectors or not.
Lucie Winsky makes mini dollhouse dolls.
Derdriu features dolls ranging from the Middle Ages through modern times.
Angel Children has a wide selection, and most dolls are less than two inches tall.

Fairy tale
Victorian
Nursery rhyme
Storybook
Christmas
Infants
Native American
Making Miniatures
Building mini porcelain dolls is an option as well. When this type of ceramic figure was first made in the 1800s, many people simply bought the head, arms and feet and put the dolls together themselves. Those interested in mini doll making as a craft have the option of purchasing the porcelain components or making them from scratch using molds.
Doll Making Kits
Miniature doll-making kits are wonderful options that offer a great experience for beginners and experts alike. Some kits consist of bodies that are porcelain from head to toe while others include everything you need to create a cloth body with ceramic hands, feet, and heads.
Making Dolls from Scratch
Doll making supplies for miniatures run the gamut from molds to tiny pieces of jewelry. Supplies you can expect to purchase to make a complete doll include:
Molds
Hair or wigs
Paint and paint supplies
Glaze
Patterns
Fabric
Stuffing
Accessories
Wire tools
Ribbon
Eyes
Elastic
Sewing supplies
Miniature doll clothing
Doll stand
Fabric glue
Beads
Lace
Where to Find Supplies and Kits
Many businesses offer guidance, supplies, molds, and complete kits. Some options to consider include:
Doll Collections
Miniature porcelain dolls are excellent toys to collect. Many choose to display the items in shadowboxes while others prefer to display them in dollhouses. Those who make their own have the added enjoyment of the creative process in addition to taking pleasure in their collections.