My Little Ponies
Buy Now"
My Little Ponies were introduced in the early 1980s and became immensely popular, but looking at any modern My Little Pony pictures will show just how much these colorful toys have changed. At the same time, they have retained their nostalgic, whimsical charm and continue to delight any young girl who has wanted her own pony.
Classic My Little Ponies were simple and came only with a comb or brush, but they were still cherished toys for years. Today, there are many different ponies to choose from.
Click any photo for retail information.
Pegasus Ponies
Buy Now"
Fairy tale pony styles, including a Pegasus, unicorn, fairy, and seahorse, were all part of the original My Little Pony line. Today, modern Pegasus ponies are still popular, such as Crystal Princess with her soft blue hues and bi-colored mane.
Sweetie Belle
Buy Now"
Sweetie Belle is another modern fantasy pony. Her unicorn horn is prominent, as are the sweet treats that adorn her coat. The candy shades of her pink and purple mane and tail add a touch of bold beauty to this My Little Pony.
Artistic Ponies
Buy Now"
Many modern My Little Ponies are exquisitely detailed with fine artistry and designs that coordinate with the colors of the body, mane, and tail. These types of ponies are highly sought after by collectors and can command high prices.
Birthday Jewel Ponies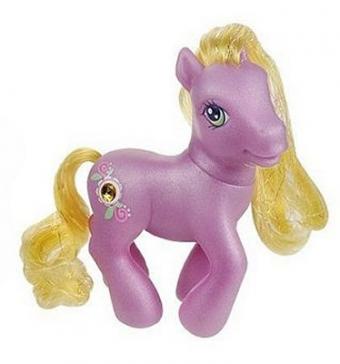 Buy Now"
One specialty line of My Little Pony toys is the Birthday Jewel collection. Each of the twelve ponies is themed after a particular birthstone, such as November's topaz, including a sparking jewel on the hip and coordinating mane and tail colors.
Pony Poses
Buy Now"
Original My Little Pony pictures of vintage toys will reveal only simple standing poses, while later lines of the toys included walking, sitting, and rearing horses. Modern ponies have many poses, including different paces and leg positions that help make each of the simple dolls unique and lifelike.
Plush Ponies
Buy Now"
A plush My Little Pony is perfect for younger girls who loved stuffed animals. Plush ponies are larger than the figurine styles and lack any hard accents, making them suitable for cuddling and sleep.
Long Hair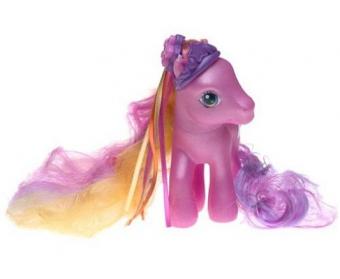 Buy Now"
Special ponies with longer hair, such as Rainbow Flash, are doubly popular not only as ponies, but also as impromptu styling models for pretty pony makeovers. Accessories such as combs, brushes, hair clips, barrettes, and ribbons often come with these ponies or are available as additional toys.
Costumed My Little Pony Pictures
Buy Now"
Different costumes are available as accessories for My Little Pony dolls. Popular styles include Halloween costumes and themed attire, such as hats, princess costumes, and fantasy flowers. Costumes can be purchased separately or with themed ponies.
Bright Colors
Buy Now"
Bright colors are characteristic of My Little Pony designs. While the original line of toys was more subdued, modern ponies come in a range of shades, such as the popular Rainbow Dash figure with her bright hair in every hue.
Limited Editions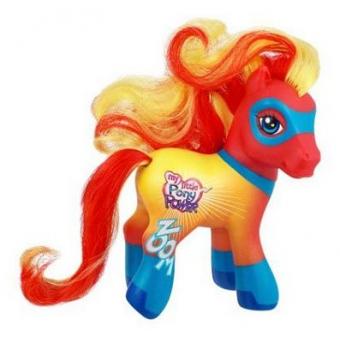 Buy Now"
My Little Ponies are so popular that they have even been released as limited editions, such as the Pony Power doll with its fiery coat and superhero mask. These are some of the most sought after designs and can usually only be found through collectors and vintage toy retailers.
Baby Ponies
Buy Now"
Baby ponies were part of the original toy line but were simply smaller versions of the adult dolls. Modern baby ponies are more distinct and come with a range of accessories, including hats, diapers, and baby toys.
Pony Sets
Buy Now"
To get an eager little girl started with her very own My Little Pony collection, consider sets of ponies. Different set themes are available from toy stores and online retailers, often with coordinated accessories or a handy carrying case.
Playsets
Buy Now"
While My Little Pony dolls can be a great toy to enjoy by themselves, playsets are popular accessories that can engage a young girl's imagination for hours. Different castle playsets are the most popular, but other options include stables, amusement parks, and other fun designs.
Pony Party
Buy Now"
If your child is a My Little Pony fan, no party can be more fun than a pony party. My Little Pony licensed party gear includes plates, cups, napkins, tablecloths, balloons, party favors, and other accessories to create a fun and festive event for any pony lover.
Interested in other pony-related toys? Toy horse and rider sets are popular with both boys and girls, or if you are looking for more nostalgic '80s retro toys, check out the first Cabbage Patch dolls.