Pictures of Toy Story Alien Toys
By perusing these pictures of Toy Story aliens, you will get an idea of just how popular -- and cute -- these Little Green Men (LGM) really are. These aliens, who were rescued by Mr. Potato Head in the second Toy Story movie, are a fixture in all three parts of this Disney-Pixar trilogy.
The LGMs come in a variety of different toys from plush stuffed dolls to action figures to keychains. They are perfect for any Toy Story fan or collector alike.
Click on the 'buy now' link in any image for purchasing information.
Toy Story 3 Figure Collection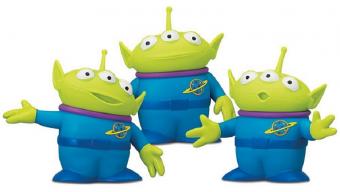 Buy Now"
This may look like a toy for kids, but it's actually part of a collection of Toy Story action figures made for adults.
Funko POP Vinyl Alien
Buy Now"
This POP! Alien from the third movie is sure to add a little fun to your collection.
LEGO Toy Story Alien Minifigure
Buy Now"
This alien is perfect for any LEGO lover. It is part of a collection of LEGOs of several of the Toy Story characters.
6-Inch Plush Alien Figure
Buy Now"
Your child will love this larger than life plush stuffed alien.
Alien Slippers
Buy Now"
Keep the LGM near you always with this cute purse.
Alien Keychain
Buy Now"
Use this keychain for your keys or as a backpack accessory! It's cute no matter where you hang it.
Alien Hats
Buy Now"
Connect with your inner geek with these great beanie-style alien hats. If you love to collect toys from popular children's movies, such as these pictures of Toy Story aliens, take a look at these gems from Monsters vs. Aliens.