A toy doctor kit is a staple for kids' toy collections. The products available range from vintage sets to current models for children to enjoy.
Choosing a Toy Doctor Kit
Choosing a play doctor set can be very simple if you begin by considering the recipient. Collectors interested in vintage toys have a different agenda than children who want to engage in imaginary play. Narrowing the search is easy, classifying the kits into either collector items or toys for kids.
Vintage Kits and Sets
Collectors selecting to adopt this type of child's toy into their compilations have great resources available to them. Toy doctor sets have been in circulation for generations, offering a relatively generous selection to consider. Many of the collectible sets have small parts and are not suitable as toys for children.
US Junior Doctor Kit was made by the Hassenfeld Brothers during the 1940s. The set included a diploma from the "Toyville Medical College", metal medical instruments, pillboxes and eyeglasses, among other items.
Little Country Doctor made by Transogram Incorporated in the 1940s and 1950s contained items like X-Ray scopes as well as many other items commonly found in a general practitioner's office during the middle of the 20th century.
Fisher Price Doctor Kits were popular during the 1970s and the company still makes sets that are very similar to the originals.
Cabbage Patch Kids line of toys included a toy doctor kit released in 1996 by Mattel.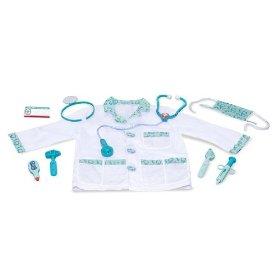 Current Toy Medical Sets
Buying vintage toys is great for collectors but it isn't always the best idea for kids. Many of the items do not meet today's safety standards, and some may contain lead. Selecting brand new items is a safer approach, and many options are available.
Parents Little MD Kit
The Parents Little MD Kit is ideal for children ages two and older. The set includes a plastic carrying case filled with the following items:
Stethoscope
Blood pressure cuff and gauge
Beeper
Syringe
Otoscope (to examine ears)
Safety scissors
Tweezers
Mirror
Thermometer
Fisher Price
Fischer Price is a favorite choice for many families and the company has a nice selection of toy medical kits for girls and boys. The sets are very popular, but there was a voluntary recall on one of its medical kits because of lead contamination in the blood pressure cuff. The company has other medical kits:
Girl's kit in pink
Mr. Bump Medical Kit
Giggle Medical Kit (featuring Elmo and other Sesame Street characters)
Melissa and Doug
Melissa and Doug offer excellent role-play sets for children, including a doctor kit. The product encourages kids to dress up as a physician while enjoying their pretend career. The set includes:
Face mask
Lab coat
Reflex hammer
Otoscope
Syringe
Head reflector
Stethoscope
The stethoscope has sound effects and there is a name tag included for a personal touch.
Other Medical Kits for Kids
Many versions of the traditional doctor set for children are available from a number of different manufacturers. Shoppers have many choices to consider when it comes to this classic pretend play favorite.
Megcos Toy Medical Kit
Learning Resources Pretend and Play Doctor Set
Imaginative Child I'm a Doctor
Medical Set by Battat
Interestingly, none of the sets by Parents, Fisher Price, Melissa and Doug, or other manufacturers have diplomas, as the older sets did. All except the Parents Little MD Kit are made for children three years and older.
Vet Sets
Children love pretending to care for others, including pets. A great choice to consider is a pet doctor toy in addition to traditional doctor sets. These toys for pretend play come in a variety of styles including Barbie and Littlest Pet Shop, among others.
---
Toy doctor kits are wonderful choices for boys and girls. The toys are helpful in developing role-playing skills, social interaction and imaginative play. They also build the children's interest in helping others, which is one of the most important lessons of all.