As soon as they can walk both boys and girls are attracted to riding toys, toys they can sit on and propel with their feet. The "need for speed" evolves with a child's growth as they go from foot-propelled cars and trikes to pedal cars and tricycles and, finally, to two-wheelers, fast scooters, and skate boards.
Foot-Propelled Vehicles
Toy stores offer a variety of foot-propelled toys, including cars, trucks, and tricycles. Some of these transitional toys can be mounted on stationary rockers so that they can be rocked in place like a traditional rocking horse. These toys typically have plastic wheels and can be used safely indoors on carpet and hard floors without appreciable damage. They can also be used outdoors, but may pick up sand and dirt in the wheels that may damage floors during the next indoor use. Parents may wish to consider segregating outdoor riding toys from those that will be used indoors.
Some popular foot-propelled vehicles include:
Parent-Controlled Pedal Vehicles
For children who are mastering the different motor skills required to ride a bike independently, parents can opt for pedal vehicles that are steered and controlled by an adult using a steering handle. This assists the child in learning essential balancing, pedaling, and speed controls, while giving the parent the peace of mind that her child will be safe. Helmets are still recommended. Common parent-controlled pedal tricycles include:
Pedal Cars and Tricycles
Some time between the ages of 2 and 3, children develop sufficient coordination to operate foot pedals in a pedal car or a tricycle. These riding toys are used mostly outdoors, and safety becomes a consideration. Tricycles, in particular, should have a low center of gravity (most of the weight towards the bottom) to prevent tipping. The child should be able to easily reach the pedals. An adjustable tricycle allows for growth. Pedal extensions are available, but may be awkward to use. Purchase of a first tricycle is a good time for purchase of a child's first safety helmet, creating safety habits that are valuable when a child graduates to a two-wheeler.
Accessories, such as bells, horns, and handle-bar streamers are available for tricycles. Common pedal car and trike options include:
Wagons
Four-wheeled wagons, such as Radio Flyers, are popular. Children seated in a wagon can be pulled by another child or a parent, and children also enjoy putting toys such as dolls or plush animals inside and taking them for a ride. Some tricycles and pedal cars have wagon hitches to allow them to pull wagons. Again, safety is important. Wagons should be designed so that they do not tip easily, especially when navigating corners. Quality wagon choices include:
Bicycles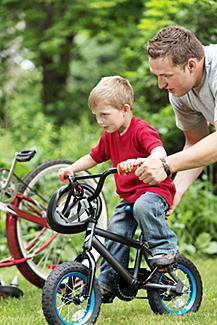 Bicycles for very young children usually come with training wheels, which keep a bike from tipping over while a child is learning to balance on two wheels. Some children never need training wheels, while others may use them for an extended period while building enough conference to take off on two wheels. Most beginner bikes do not have multiple gears. Bikes designed specifically for girls may lack a crossbar so that skirts can be worn while riding a bike. However, many young girls prefer bikes that are designed just like those for boys.
Older kids typically want more sophisticated multi-gear bikes, racing bikes, dirt bikes, or mountain bikes. Seats and handlebars can be chosen to meet the comfort needs of the individual rider. Safety helmets are a necessity for bicycle riders and, in some states, they are mandated by law.
Excellent bicycle choices for young children include:
Older children may be interested in the following bikes:
Scooters, Skateboards, and Roller Skates
Scooters, skateboards, and roller skates, including roller blades, are popular with older kids. They also present safety issues, particularly for injuries to heads, knees and elbows. Helmets, plus knee and elbow pads, are essential and assure fun by helping to prevent serious injuries.
Some popular roller skate models include:
Scooter models that span different ages include:
Kids interested in skateboarding may enjoy:
Choosing Riding Toys
Kids' ride-on toys should be selected with an eye on appropriateness for a child's age, motor development, and safety. If the toy is intended for outdoor use its finish should be durable and water resistant. If will be used only indoors, tires and other parts should not scratch floors or mar furniture or woodwork.
It's possible to find appropriate mobile toys for kids of all ages. Babies as young as twelve months like to climb onto foot propelled cars and scoot around the house. In the elementary school years, bikes and scooters are very popular. Pre-teens through older teenagers enjoy ten-speed bikes, mountain bikes, skateboards, and roller blades.
Riding Toy Designs
Ride-on toys come in a variety of colors and sizes and often feature logos from favorite movie, television, and cartoon characters. At the toddler and pre-school level, there is very little difference between the mechanical designs of riding toys designed for boys and those for girls. However, the external design of a miniature car marketed for little boys may feature strong, bright primary colors and super-hero logos; the same car, decorated for girls, may feature bright pastels and a Barbie® or princess logo. Of course there are also lots of riding toys that are decorated with a unisex motif.
Ride in Safety
Parents and kids have many choices when it comes to riding toys. The fascination with mobility extends from babyhood to adulthood. Parents need to be vigilant about safety while allowing their children to benefit from the fun and exercise offered by ride-on toys.